Exodus Trading Card Game News
Greetings Everyone,
The first issue of the Exodus Trading Card Game E-zine is here!
First, we'd like to take a moment to thank you for signing up for our E-zine (like a magazine, but for e-mail)!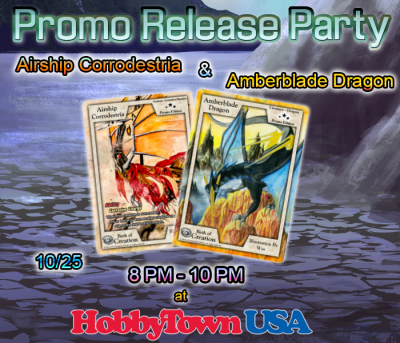 This evening (10/25) is the official launch party for the 2 newest Exodus cards--Airship Corrodestria and Amberblade Dragon!

Illustrated by new artist Wes, these watercolor cards will make an exciting addition to any Dragon or Angel deck. This Promo Release Party will be held in Fresno, CA, at HobbyTown USA off Barstow and Blackstone. The event is Open House from 8 PM - 10 PM, and you'll get an Amberblade Dragon just for showing up!

Even if you're not interested in the mechanics of the first ability creature ever created in Exodus, you'll want to see how these paintings went from Canvas to Card. That's right, the original paintings will be on display at HobbyTown for this event, and you'll have a chance to play a game with Wes or the creators! Don't live close enough to attend? Don't worry, there will be several opportunities online or at your local game store for you to obtain your own copies of these cards.
Don't know how to play Exodus? Play one of our 5-minute demos (that's a full game, not shortened) at any of our events and you'll have it down pat. You could even win a rare limited edition card just for playing!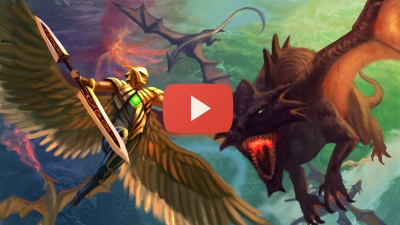 Speaking of learning how to play... there's a new Exodus video for you to watch! Click the image above to check it out, and let us know what you think of it!

It's an in-depth tutorial for new and experienced players alike, featuring Jake and Steven, who break the game down step-by-step as they play. We made sure to cover all the basics so you don't have to spend that time reading the written rulebook if you're a visual learner!

Even though Exodus is simple and very fast paced, sometimes we all need to watch a good game that isn't played at the speed of light and without explanations. We hope you learn something from this new video and let us know if you'd like to see some faster paced battles and game trailers!
We want to thank each and every person for supporting Exodus so far, and it's because of you that the game is growing and doing so well.

Thanks to those who bought Harmonized Starter Decks, First Edition (the first print run of the game) is now sold out. If you bought a Second Edition Deck early, you already got Airship Corrodestria and Amberblade Dragon, but we encourage you to still bring them to the Launch Party this Friday to get them signed by both game creators and the artist!

Existence Games will be in Bakersfield for Bak-Anime (Anime Con) on November 3rd!

That's about it for the first issue. See you soon!

www.exodus-cards.com
www.facebook.com/ExodusCardGame

Best Regards,
Jake Medina
Lexi Medina
Existence Games