Exodus News, Issue #005 -- Expand Exodus in 10 Seconds
We're calling on everyone to take just 10 seconds of their time and click the "Vote Now" button for us at this direct link.
Video on how to vote: https://www.youtube.com/watch?v=Tua1iOlMXD8
By casting a quick vote, you'll help us reach the 250 total votes that we need to move onto the next stage in the Chase bank contest that is going on now. We have until June 19 (2 more days) to get 250 total votes, and if we do, we move on to the interview process (one of the final stages)!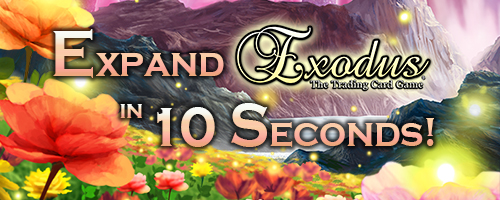 If we win one of the grants, we'll use the money to immediately expand Exodus with new releases such as the next booster pack, sleeves, life counters, deck boxes, binders and much more! We will also heavily advertise and market the game and make sure it is stocked in stores around the country. By helping us win this contest, you'll help us grow the game and release things faster.

We're more than halfway to 250 votes and we can reach our goal with your help! If each person puts in a vote and gets 1 other person they know to vote, we will reach it overnight!

To everyone who votes: Thank you; you are AWESOME!

We can't wait to bring you more Exodus!

Best Regards,
Jake Medina
Lexi Medina
Existence Games