Galaxy Tides Booster Pack October 2014!
Announcing the first booster pack, Galaxy Tides, coming out this October!
We want to give subscribers an early look at the expansion, and provide you with the opportunity to pre-order your First Edition booster box at your friendly local game store!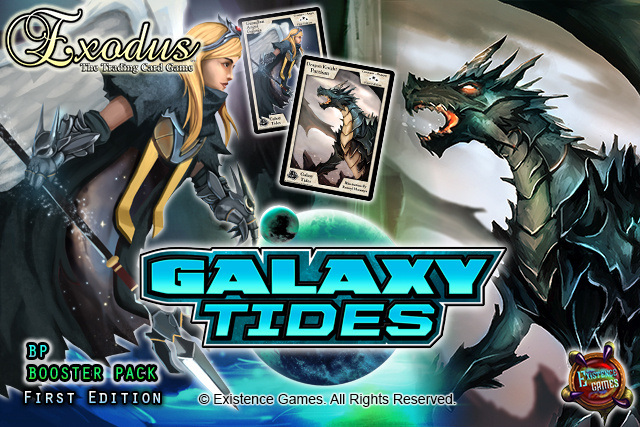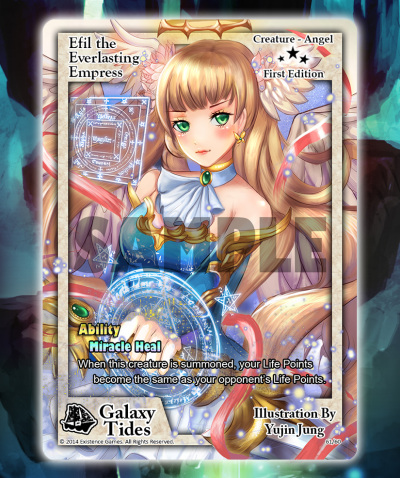 Galaxy Tides is a 100% new 60-card set that brings a whole slew of support for Dragons, a surprising new kind of Angel, Treefolk, Shardfolk (Crystal Creatures), Living Ships, and so much more! Beautiful Foil cards are introduced for the first time and powerful new Symmetry cards allow endless freedom for custom decks.

Configuration:
- 5 cards per pack
- 12 packs per box
- 2 Box Toppers per box
- 12 boxes per case

Contents:
- 25 Rare
- 15 Uncommon
- 20 Common

MSRP $41.99 Box
MSRP $3.50 Pack
Guaranteed to have 1 Foil card per pack!
Each sealed box contains 2 Box Toppers. One Box Topper is a random Foil Rare and the second is a powerful Premium Foil Ability Creature not found in the 60-card set!


*Efil the Everlasting Empress is the fixed Box Topper in First Edition booster boxes!
We at Existence Games are so excited to bring you this first booster pack installment. Head over to your local hobby game shop and pre-order your Exodus Galaxy Tides booster box for only $41.99.
Ask the store to order the Exodus TCG from their distributor. In doing so you'll help make the first booster set a huge success! First Edition booster boxes will have not one, but two Foil Box Topper promo cards that you wouldn't get otherwise. This means that you get a 13th Foil Rare out of a 12-pack box that would normally have 12 Rares. On top of that, you get a secret rare Ability Creature that can't be found in the set! How cool is that?
By securing your box ahead of time, you'll help make trading card game history and pave the way for the future of Exodus!
Exodus News and Events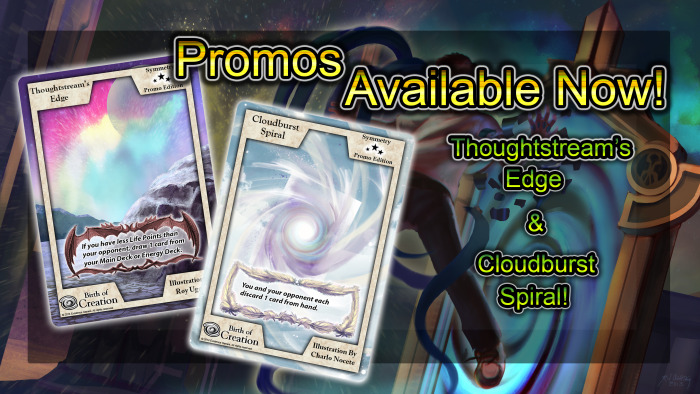 Two new Symmetry cards are available now! First up is the card based on Eeventide's Borealis sky river, Thoughtstream's Edge allows you to draw a card from the deck of your choice in your time of greatest need. If you are losing, you can play it and draw 1 Energy or take your chance at drawing a card from your Main Deck.

If your strategy is all about card advantage or if you find your opponent's hand full of cards and yours empty, Cloudburst Spiral causes you and your opponent to each discard 1 card from hand. Keep in mind they can still use their Symmetry cards in response, but it may be just the thing to get rid of that pesky Timeless Angel of Eternity. What a sweet play if you have nothing to discard! Look for these new promos at tournaments, contests and events.

Announcing the Featured Card of the Month! In this column we feature a new Exodus card every month.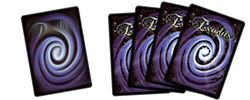 Okay, this card isn't exactly out yet, but it's so cool, we thought it deserves the April spotlight. Efil the Everlasting Empress, whose name is "Life" spelled backwards, makes your Life Points become the same as your opponent's Life Points when summoned.

In the most dramatic circumstances (which happens far too often), you can be at 1 Life Point and your opponent at all 10 Life Points. Summon this card and suddenly your Life points are back to 10! But be careful, if you summon her while you're ahead, your Life Points will drop to match your opponent's! Pair this beautiful card with some of your favorite combos and your comeback just got a lot more epic! With unique artwork by the talented Yujin, this booster Box Topper will come as a stunning foil and will no doubt be popular in competitive decks.

**Efil is the fixed secret rare box topper for Galaxy Tides (61/60) and will NOT be found in packs, only as a loose promo in sealed boxes.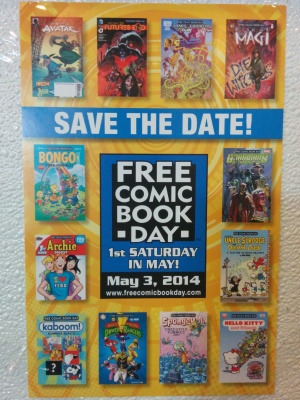 Existence Games will be in Bakersfield, CA to run Exodus Trading Card Game demos and events during Free Comic Book Day at LEETERS!
Come out and get free comic books and a free rare Exodus card on Saturday, May 3rd! While you're at it, meet one of Exodus' artists. American artist Wes will be there in-person to sign the cards he illustrated including Amberblade Dragon, Cerulean Stormstream Dragon and the infamous Airship Corrodestria!
And we bet if you simply ask him, he'd be willing to play a game with you!
The Exodus Trading Card Game will be the featured TCG at Gamex Strategicon 2014 in May! Find the game in the collectible room May 23 - 26. Battle it out with other Drifters for ribbons and top prizes in the weekend tournaments, and get your hands on the new promo cards. Jake and Lexi, the game developers will be there to show you how to play and answer any questions.


Retailers
Anime Universe, Universal Distribution, Southern Hobby, Mad Al Distributors and Warpath Games are now taking pre-orders for Exodus products.

Our Organized Play is currently in development and we will release more information as it becomes available. We are very excited to partner with you in making your store a premiere destination for the Exodus Trading Card Game.

We are working with other distributors to get it in their catalogs as soon as possible. Be sure to ask about the special package you get with your pre-order. If your distributor is not listed here, please ask them to carry our products.

Best Regards,
Jake Medina
Lexi Medina
Existence Games