News
What's up everyone! We're bringing you the September issue of the Exodus Trading Card Game Newsletter!
In addition to this month's regular issue, we'll be sending out special weekly editions with more info and goodies leading up to the October release date.
Check out some of the new features coming soon to the Exodus website!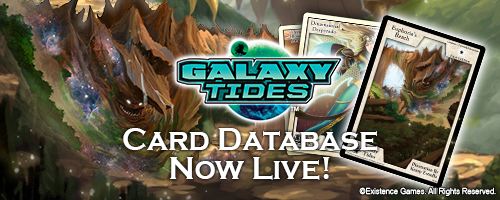 To go with the nationwide release of Exodus next month, we will be adding a complete card database for the convenience of players and collectors. Expect to see an early version of the Galaxy Tides expansion database go live on the site this week!
Upcoming Events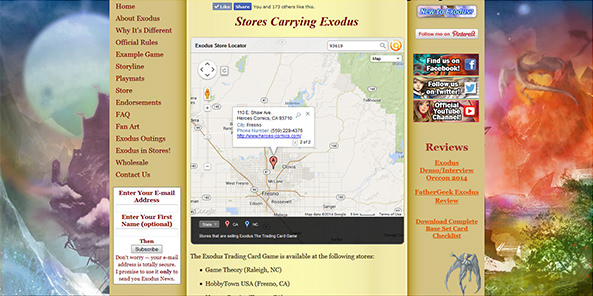 Use our new Store Locator to find a store near you to play at and plan to attend a Launch Event in the next few weeks!

Stores in USA and Canada will be running official Launch Parties throughout October, followed up by sanctioned tournaments through November! You can attend a Launch Event to stand a chance at winning a Champion playmat, oversized art cards, promos, cards autographed by the artist, and more!

We are always adding new stores, so check back often and remember to ask your local shop to e-mail us in order to get registered.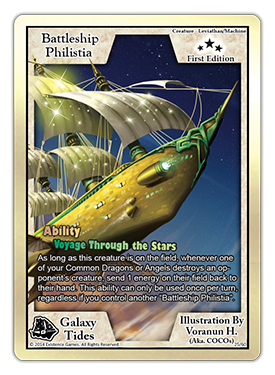 Announcing the Featured Card of the Month! In this column we feature a new Exodus card every month.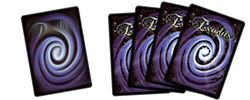 Battleship Philistia is a Rare Ability creature found in Galaxy Tides boosters, boasting incredible artwork by the extremely talented COCOs, along with one of the more type-specific effects of the upcoming set.

It's a Machine/Leviathan type creature, with the effect: As long as this creature remains on the field, whenever one of your Common Dragons or Angels destroys an opponent's creature, send 1 energy on their field back to their hand. This ability can only be used once per turn, regardless if you control another "Battleship Philistia".

In short, you can send an energy on your opponent's field back to their hand when one of your 1-star Dragons or Angels destroys a creature! Imagine if they have any weak 1-energy creatures in play; you can destroy one of their bigger ones, and then send the 1 energy back to their hand, which will destroy their creature and leave them open for a direct beat-down! Just in case you didn't notice, this card goes great in a Dragon/Angel deck and will be a massive threat the second it hits the table. We saw some amazing Battleship/Drangel decks coming together at the Pre-Releases and can't wait to see more of what it can do!

If you love the Living Ship/Leviathan theme, you'll get another new flying ship Ability creature "Airship Corrodestria" just for Pre-Ordering your Starter Decks at your local game store!



Dear Retailers
Anime Universe, Universal Distribution, Southern Hobby, Warpath Games, and Mad Al Distributors are taking pre-orders for Exodus products. Alliance is also now taking Exodus pre-orders and will feature the game in Game Trade Magazine issue #177 which ships October 29!

Thank you to all of our retailers who are scheduled to run Launch Events! Media kits will be e-mailed out this week to help promote your event, and the Launch Kits will arrive with your distributor shipment.

*NOTE: If your store is not yet in our Store Locator system, let us know so we can add your location and send players your way.

If you have not yet registered to run an event, please Contact Us!


We have more exciting announcements and card previews to show, so stay tuned for the special edition e-mails coming up next!



Best Regards,
Jake Medina
Lexi Medina
Existence Games