Exodus TCG News
Drifters of Eeventide, of Guilds near and far and those yet to come... the release month is finally here!!
Exodus The Trading Card Game will hit stores between October 29 and the week of November 2!

Thank you to everyone who has Pre-Ordered their Starters and Booster boxes! It's not too late--grab a set of autographed, Extended-Art promo cards with your pre-order!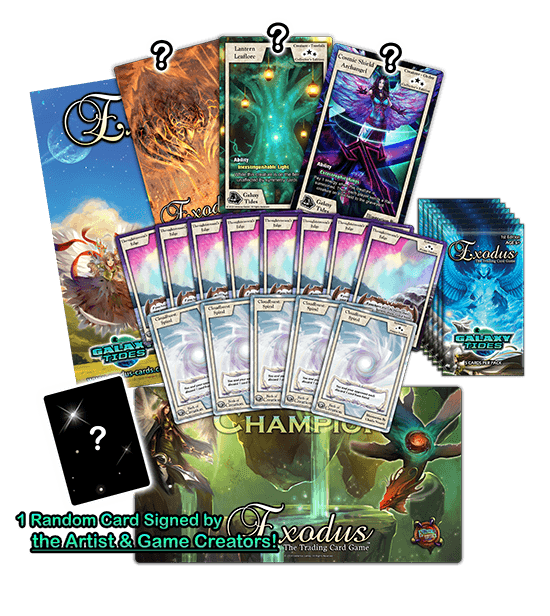 All of these prizes and more will be yours for the taking at your local Pre-Release or Launch Event tournaments:

- Exodus Champion playmat,
- Sealed packs,
- Oversized art cards,
- Promotional cards,
- LIMITED cards signed by Galaxy Tides artists,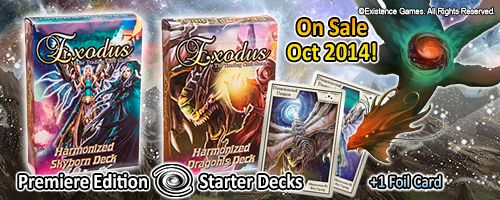 Due to popular demand, we've managed to get a few cases of extra early product in before the release, and we'll be running a sanctioned Pre-Release in Bakersfield, CA on Sat, Oct 25 at CSUB on the college campus! This will be part of the Extra Life Gaming Marathon and a portion of the profits will be donated to the local Children's Hospital to help heal kids!

Check out the Extra Life website for details on how to join the event. Once you're in, you'll have access to your own Exodus Pre-Release tournaments for 12 hours of nonstop card WINNING!

Anime Universe, Inc. will be premiering the Exodus Trading Card Game at Comiccon de Québec from October 25 - 26, 2014! Look for the Exodus/Anime Universe banner above and stop by for a demo and to purchase your cards. This event will take place at the Québec City Convention Centre. More info can be found HERE.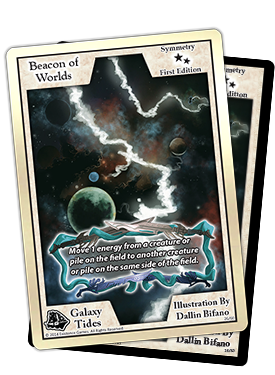 Announcing the Featured Card of the Month!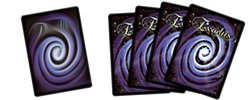 Behold, Beacon of Worlds, an Uncommon symmetry card found in the Galaxy Tides booster expansion. Find this card as a regular black-bordered card AND as a shiny foil! It features an Order border text box, which ties in with the new storyline, but more on that later.


Card Effect: Move 1 energy from a creature or pile on the field to another creature or pile on the same side of the field.

If your opponent has any 1-energy creatures, you can play Beacon of Worlds to move that energy somewhere else. If you do this, that creature is left with 0 energy... which means the creature is destroyed!
This symmetry card is powerful in Draft format as well. You can change its purpose entirely by using it to move an energy from one of your creatures that has already attacked to one of your other creatures who hasn't attacked yet, getting an extra damage in that turn!! The trick is, you can't move an energy to the opposite side of the field either way (it's not a Leech!). However, devastating combos can be pulled off when you use Beacon over and over again (maybe using it differently each time?). It's a very versatile card, which is always good.


Upcoming Launch Events

We want to take a moment to thank everyone who came out and played in the first Exodus Booster Draft event at The Monstore recently. If you played in that event, give yourself a pat on the back! :)

These are just a few of the upcoming Exodus Launch Events you can attend at the following locations:

Date: Oct 30
TechNoir
112 Main St, Oneonta, NY 13820, USA



Date: TBA
Highlander Games and Comics
3952 Central Ave NE, Minneapolis, MN 55421, USA



Date: TBA
The Monstore
5404 Moreno St, Montclair, CA 91763, USA



Date: Nov 2
HobbyTown USA
102 E Barstow Ave, Fresno, CA 93710



Date: Nov 2
Magasin Ménard Comics
1483 St Charles O, Longueuil, QC J4K 1A7, Canada



Please contact the store directly if you have any questions.


Thank you everybody for your support and we hope to see you soon at an official Launch Event! *Attending a Launch Event will now count as double points toward your player World Ranking (coming soon), and you get more points for bringing friends who participate!


More exciting card news coming up!

Best Regards,
Jake Medina
Lexi Medina
Existence Games