Post-Launch Excitement
Thank you to our retailers, distributors, artists, and to YOU, our valued Exodus players and fans for making the national launch of the Exodus Trading Card Game a success!

But the fun is just beginning! Lots of great Launch Parties took place as product started arriving during the first week of November. We want to give an extra special thanks to those who hosted and attended official Launch Events. We attribute much of the success of the first release to everyone who helped by playing the game, demoing, running events, and ordering from our distributors, as well as those who shared the game with their friends.

We also received tons of great feedback from both players and retailers and as a result, we are taking constructive ideas into consideration and making any changes that will benefit the state of the game.

We acknowledge that there was no newsletter that went out in November, so we're bringing you more card news this month and a special Christmas treat!
Launch Highlights

Excitement and curiosity filled the air as the first Galaxy Tides booster packs were cracked throughout USA and Canada at the release. With a game as unique as Exodus, there is something for everybody whether it's building a deck around cards from your favorite artist, trading cards to complete that set of foils, finding hidden combos before everyone else, or simply enjoying the newly released expansion!

We were honored to meet new people and test our own decks against the newest creations. The famous uncut sheet entertained and enlightened crowds at the tournaments we were graciously able to be a part of.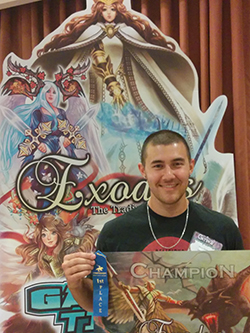 The Exodus Tournament circuit is just starting! Continue to play or ask your local store to run Exodus Tournaments to accumulate early points toward your Worldwide Ranking.
We are carefully developing Organized Play to include promo kits, player and retailer achievements, Storyline influence and more. We are currently on track to launch the new Exodus Ranking site in January 2015! Refer players to your locals and become (and then protect) your title as Champion!
We are looking for serious volunteers to give out Exodus TCG demos at their local game store! Help us grow the playerbase in your area while earning the latest promo cards and bringing business to your local shop. Contact Us for details.


Card News
From Nov 1 to Nov 30, we held the first Exodus Video Contest to celebrate the Galaxy Tides booster release! We selected 2 winners for the Win-a-Box contest based on different criteria. The goal was to create a fun unboxing video for a chance to win a free booster box! Congratulations to Jesus "Chewie" Siller and Carl Madarang!

Check out the Winning contestants' videos and be sure to subscribe to their YouTube channels: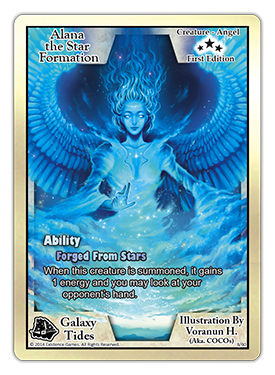 Announcing the Featured Card of the Month!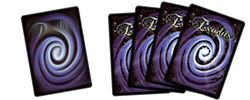 In response to the council of 4 Drifters who abandoned their Guild in a dramatic act of betrayal, Skyborn forged their most powerful weapon from stars, nebula, and galaxies--Alana the Star Formation! Already stacking up to be the most highly sought-after card in the Galaxy Tides booster expansion, this shiny creature has an extraordinary effect.


Ability
Forged From Stars
When this creature is summoned, it gains 1 energy and you may look at your opponent's hand.

Wow! What an amazing card! With literally no drawbacks, you would expect nothing less from the cover character for the latest expansion. She automatically gains 1 energy when summoned (and can be bounced back to your hand to use her summon effect again)! She also lets you look at your opponent's hand when she enters play, but only 1 opponent (since it doesn't say "each") during Multiplayer Mode. Reversion and Unsummon are huge threats to this creature, but she truly represents the best of what Angels can do with all of that Energy-gain!

The artwork for this card is absolutely stunning, some would say among the best in the world. If you are lucky enough to pull 1 or more of these out of the booster packs, we congratulate you--and if you manage to pull the Secret Rare version, then we can't begin to express our excitement for you...


New Videos, Cards, Tournaments
We are working hard on many new things right now, including a Galaxy Tides Commercial, fast-paced gameplay videos, promo cards, Kits, a World Ranking system with join-able Guilds that are affected by the decks you play, and some other secret things we can't talk about yet.

Official Booster Draft rules will go up on the site soon. In the meantime, why don't you let us know which cards or Exodus characters you would like to have as a downloadable wallpaper?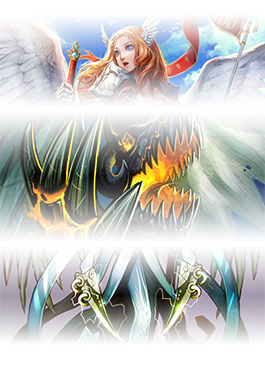 Speaking of new promo cards...what are those gorgeous card previews?! We won't say yet what they're called or what they do, but get ready for some phenomenal releases coming up!


Retailers
We are excited to announce Anime Universe as our exclusive Canada distributor for Exodus Trading Card Game products in Canada and its territories. While we have had nothing but positive business relationships with our other Canadian distributors, this is a positive change that guarantees Canada players will get more exclusives, special card releases, marketing and exposure!

We ask for your understanding on this matter and hope that you will simply open an account with Anime Universe when you want to restock Exodus products. Ultimately, this will bring you much, much more customers and sales for the game as it grows, as we have plans to spoil Canadian players with awesome exclusives.

This does not in any way affect US retailers who order from a variety of channels.

Remember to cash in on those holiday sales and reorder Exodus decks and boosters from your authorized distributor this month!

Authorized Distributors:
- Anime Universe (Canada),
- Alliance (USA),
- Southern Hobby Supply (USA),
- Warpath Games [now Golden Distribution] (USA),
- Mad Al Distributors (USA),



We are working more closely than before with stores to help them run successful tournaments and Launch Events. Kits are still available.

Want your Game Group/Store Featured?
E-mail us photos of your Exodus Trading Card Game tournament or event and it just might be featured in the next issue! Do NOT reply to this e-mail, but instead Contact Us to get the e-mail address you should send it to.

Not a game store or group, but have amazing photos of an Exodus game you played? Send them in, we love them!

Existence Games will be at The Monstore in Montclair, CA on December 13, 2014!

Exodus The Trading Card Game booster draft and tournament will be held in the afternoon, and the creators will be there to challenge YOU with their own decks! Are you up to the challenge?

See you there and see everybody next issue!

Best Regards,
Jake Medina
Lexi Medina
Existence Games