Exodus News, Extra Issue #011 -- Player Q&A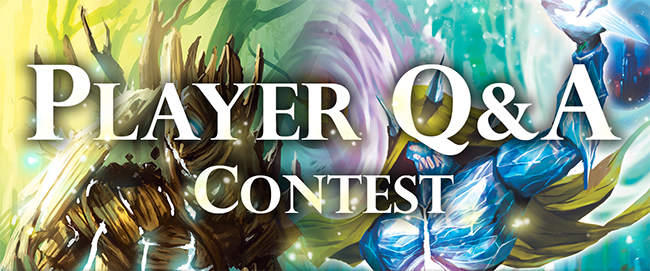 Hey readers, we've got a mini contest for you this January! Coming up soon is the release of the next issue of the official Exodus TCG Magazine. As you may have seen in the first issue, we did a two-page spread of quotes and insights from real players like you--and we'd like to do that again for magazine #2. But we'll need your help first!

We kindly ask that you read through the 11 questions below, and pick any amount that you'd like to answer. Most of these are specific to set 3, Crystal Forge, but if you have other thoughts, comments, or feedback on any other aspect of Exodus, or of the game in general, you're more than welcome to send us your answers for that as well! If you're brand new to the game (welcome!), feel free take the last question.
Important: *Please DO NOT reply to this email*. To send us your answers, use one of the following options:

- Email us at exoduscardgame@gmail.com with "Player Q&A Answers" in your subject line

- Contact us using our official Contact Form


- Send us a direct message or comment on on Facebook, Twitter, or Instagram



We'll personally select some of your answers to feature in the next official Exodus Magazine issue! Your voice is sincerely valued, and we can't wait to read your responses. It's thanks to you and all your support that this game has been able to be so great, and we're really excited to bring you the new magazine (which will announce the next set)!

Have fun answering, and thanks again for your time!


Best regards,
Jake Medina
Lexi Medina
Existence Games