2018 Exodus World Chamionship Is Drawing Near!
Here's Everything You Need to Know: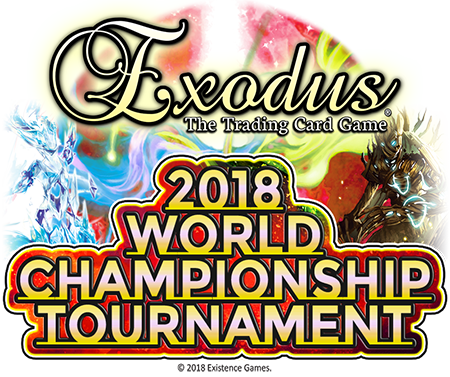 ___________________________________________________


EXODUS TCG 2018 WORLD CHAMPIONSHIP TOURNAMENT
(Players by Invitation Only. Spectators welcome!)

"Top 24 players in the world compete on the ultimate stage in the studio for the crown and title of Exodus World Champion!"

Exclusive Prize Support Included but Not Limited to:

- Exodus Worlds 2018 Playmat to All 24 Players
- Exclusive Exodus TCG Card Binders for Top 8
- Trophies for Top 4
- New Artist-Signed Cards
- "Design Your Dream Card" Prize
- "Get Drifter Artwork Illustrated in your Likeness" Prize
- "Get Written Into the Storyline" Prize
+ Much, much more!


PRODUCTION SCHEDULE:
Studio Production July 20th & 21st 2-Day Event Fri-Sat (Fri 10AM—6PM [PST], Sat 12PM—7PM [PST]) 07/20/18 - 07/21/18

Venue Address: 1555 Van Ness Ave, Fresno, CA 93721 United States




STUDIO FILMING/EVENT SCHEDULE:
DAY 1: 5 rounds of Swiss non-elimination (Best 2 of 3) 10am—6pm [PST] on Friday, July 20th

DAY 2: Cut to Top 8 (1v1 Single Elimination Playoffs, Best 2 of 3) 12pm—7pm [PST] on Saturday, July 21st

*NOTE: Games played at the World Championship Feature Match table will be uploaded to the official Exodus YouTube channel.



**Check exodus-players.com regularly for news on Qualifier Tournaments near you.
---



After Worlds is over, everyone is invited to stay for the Afterparty (Day 3) with the creators (and even if you're not a player or spectator at Worlds, we invite you to come and be among the first to celebrate the launch of the 4th Exodus set)!




*(Set 4) Converging Chasms Pre-Release Party on Sunday, July 23!*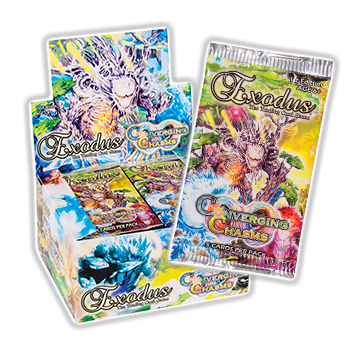 The new booster set will be on sale early at this event, so come with money in hand! There will be a tournament, on-demand booster drafts and more!

Open House from 2pm—7pm (PST). The address for this Pre-Release is a little bit of a secret though! To get it, just reply to this email saying you'd like to RSVP to the event (or are at least interested in coming), and we'll send you the venue info :) We'd be both honored and absolutely stoked to see you there, and know you won't be disappointed—so come ready!


---
___________________________________________________
Play On!
Official Site | Facebook | Twitter | Instagram | Youtube
All the best,
Jake Medina
Lexi Medina
Existence Games