Ever Seen a Heavenly Blade Hera Sketch Card?
Nobody has, actually. Not until now. 100 Heavenly Blade Hera sketch cards were printed in the world, but not a single one was ever released. "Why, Existence Games?" you might be thinking, "That's a cool lookin' sketch!" Well, when this card came off the press, unfortunately, the whole batch got miscut...and it just didn't meet our criteria to release.
___________________________________________________


There's good news though! Rather than letting these lonely sketch cards sit in an unused box or get tossed out, we decided to turn them into Limited Edition Button Pins! And even better news: one of them can be yours!


Here's How You Get One:
We're making these new, never-released Sketch Buttons available for FREE with the purchase of any of our in-stock Playmats in the Exodus Online Store. If you're looking for a new gaming mat, want to add one to your collection, or maybe get one for a friend, most of our designs are almost sold out--so don't wait on this! Check out what's available below: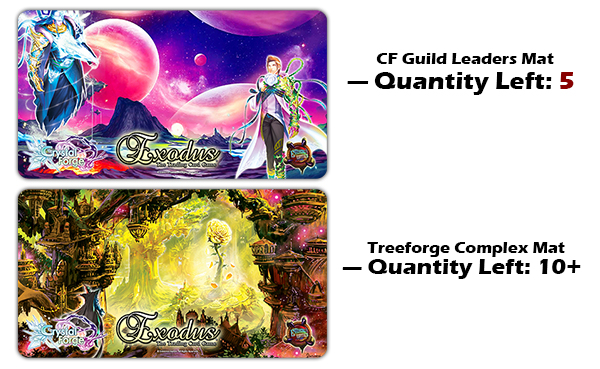 These quantities are as of 6:59AM PST on 6-29-18
Some Cool Info to Know About These Mats:
- Not including the popular "Treeforge Complex" playmat, each mat is printed at an extremely limited quantity, and once they're gone…they're gone! We don't reprint playmats, so if there's one you like, get it immediately before it's sold out forever.

- The colors are just as vibrant in person as the digital images! (Don't believe us? See for yourself ;))

- All our playmats are 100% machine-washable, so if you spill your favorite snack or drink all over it, never fear—it'll clean right out.

** BONUS: From June 29 — July 6, all playmats are 10% OFF!




Happy Summer and Fourth of July, from us!


---
___________________________________________________
*Bonus Announcement*
Set 4 is right around the corner now, and we know you've gotta be just as eager to see these new cards as we are to release them! So each weekday during the month of July, starting Monday, July 2, we're going to be previewing a new card from Set 4 Converging Chasms on our social media! Join us on any of the social platforms below to get your Exodus #CardOfTheDay preview! Converging Chasms is about to come your way!



___________________________________________________



---
Play On!
Official Site | Facebook | Twitter | Instagram | Youtube
All the best,
Jake Medina
Lexi Medina
Existence Games