You Probably Guessed It...

Hello!
The "Untwisted Vortex" promo card showcased in yesterday's newsletter was our little "Happy April Fools!" gift to you :) While indeed, Untwisted Vortex is not a real printed Exodus TCG promo card, we have still made it available to play on Tabletop Simulator for kicks and giggles! You can see & play with our previous April Fools promo "Otrecnoc, End of the World" on there as well. 👀
But more importantly ... onto the REAL new promo card for this month! The actual promo you'll get in the mail with any Online Store purchase during April 2022 is none other than:
✨ Featuring: ✨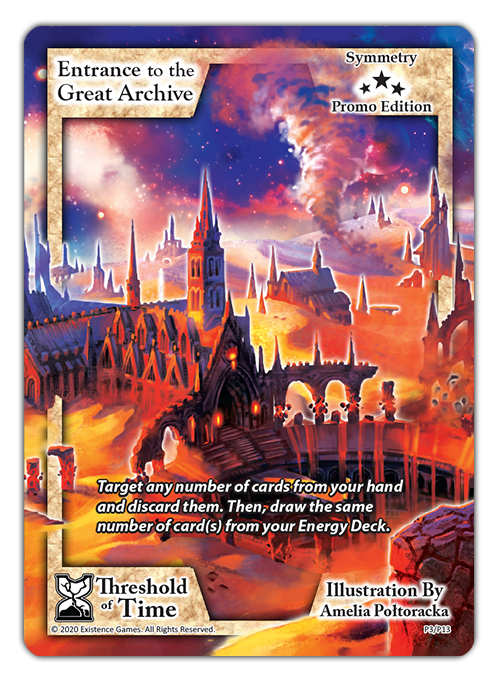 The next piece of the Great Archive Guild's location is revealed! If it looks somewhat familiar, that's because this card's art actually connects with another promo by the name of "Desert of the Great Archive". And perhaps ... there's still more to see of this uprooted sand city?

What kind of deck(s) or playstyle would you run this card in? 🤔

---
---
Other News:
Existence Games News & Update
We realize it's been a while since the last major announcement or news update regarding the Exodus TCG. Believe us when we say we know it may seem quiet at times from an outside perspective, but rest assured we have exciting things in the works. Existence Games and the Exodus TCG are not going anywhere; we're still here to stay. Some things are shifting and may look different moving forward, but we hope you will be along for the journey!
No one was more saddened or disappointed than us when we had to make the very difficult decision to cancel the last World Championship and pause Organized Play mid-season. Interacting and playing games in-person with the Exodus playerbase has always been one of our personal favorite aspects of owning and operating a TCG publishing business.
The reason we've been on the quieter side lately is because we've dedicated our time and efforts into bigger picture projects behind the scenes with the goal of expanding Exodus' overall growth & reach. This includes potential partnerships and larger licensing or collaboration opportunities that we are simply not at liberty to disclose at this time. Due to these reasons, the Organized Play program will remain paused until further notice so that we can continue to dedicate our resources toward growing the Exodus TCG brand and community as a whole. Existence Games is still a debt-free company and we intend to focus on long-term goals rather than doing more of the same.
To those who continue to purchase cards, collect, play & share the game by engaging with our community—thank you for your continued support! We are always very proud of the Exodus community for being so welcoming, helpful & supportive of new players as well as each other—and hope it'll continue to be as such as we all move forward together!

---
---
Play On!
Official Site | Facebook | Twitter | Instagram | Youtube
All the best,
Jake Medina
Lexi Medina
Existence Games