Strategicon 2014 Galaxy Tides Booster Pre-Release!

Experience the first Exodus Trading Card Game booster Pre-Release at Strategicon Gateway 2014! The event will take place Aug 29 - Sept 1 at the Hilton hotel near LAX in California, USA.
Click HERE to pre-register through the Strategicon website. Reduced room rates are being offered for those who wish to stay at the Hilton for the con.


Schedule:

Start Time: 1:00 pm Friday Aug 29
Friday: 1 pm - 6 pm; Open Play and Booster Draft after 6 pm

Saturday: 10 am - 9 pm; Custom Deck Tournament @ 12 pm
Sunday: 10 am - 9 pm; Custom Deck Tournament @ 12 pm
Monday: 10 am - 12 pm closing; last chance to buy early packs
• Exodus Open Play available 24/7 in the CCG ballroom all weekend

• Raffles and random giveaways every round during organized play

• Booster Draft Times TBA
Booster Draft Entry Fee: $15 per person; keep the cards you draft!
Custom Deck Tournament Entry Fee: FREE! None; zip!
Prize support includes cash/dealer dollars, ribbons, "Champion" playmats, sealed boosters, promo cards, oversized art cards, Limited Edition cards, signed/autographed cards, and more!
Location:
Hilton Los Angeles Airport, 5711 West Century Blvd., Los Angeles, California 90045
In the Collectibles Room -- La Jolla

Pre-Release will be run by the publisher Existence Games courtesy of Strategicon Conventions. Early Galaxy Tides booster boxes and sealed packs will be on sale for the duration of the event.
We are very excited to bring you the first installment of Exodus boosters and introduce the exciting booster draft format! Additional Drafts will be held throughout the day all weekend long based on attendance in addition to the regular scheduled times.
Bring friends because this will be a major event of the year you won't want to miss! It will be the only chance to buy advanced booster boxes and play with the new cards before the October release date.
Sealed Galaxy Tides Booster Box: $41.99 (12 packs + 2 foil box toppers)

Sealed Booster Pack: $3.50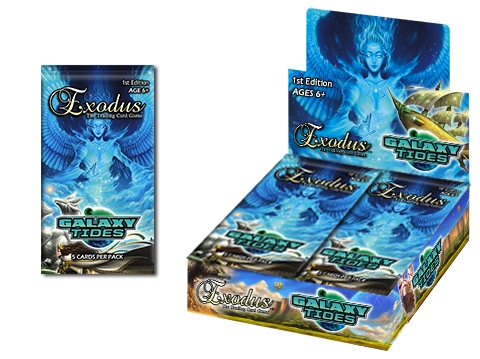 Official Booster Release Date: October 2014
We thank you for your support and look forward to seeing you there in-person. It's going to be an incredibly fantastic show!
Return From Strategicon Pre-Release To The Home Page