Exodus News, Issue #011 -- Eeventide's Summer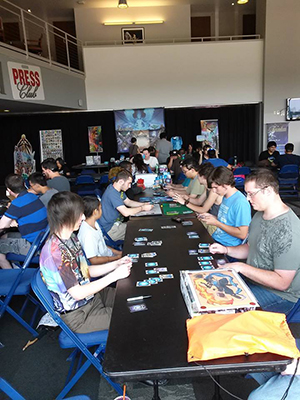 It's been a busy summer for Exodus and Existence Games as we've been traveling the West Coast, expanding the game through countless new conventions! Check out some of the latest cons we've attended through this year.
As the game publisher, we've been running official Exodus events all over, including California, Nevada, Washington, and many more states. Keep an eye open for our reps on the East Coast who are running Exodus events near you!
Conventions Recap
Fresno Con --- January 31st-February 1st in Fresno, CA
Strategicon --- February 13th-16th in Los Angeles, CA
Long beach Comic Expo --- February 28th-March 1st in Long beach, CA
Ani-ME Con --- March 21st-22nd in Fresno, CA
Big Wow Comicfest --- April 18th-19th in San Jose, CA
Yummecon --- April 25th in San Jose, CA
Kublacon --- May 22nd-25th in San Fransisco, CA
Amazing Las Vegas Con --- June 19th-21st in Las Vegas, NV
Rage Con --- June 26th-28th in Reno, NV
Western Con --- July 2nd-5th in San Diego, CA
Gam3r Con --- July 8th-12th in San Diego, CA
Stockton Con --- August 8th-9th in Stockton, CA
Seattle Gift Show --- August 15-18th in Seattle, WA


We loved meeting every single one of you at these recent conventions and had a blast seeing the unique decks you came up with! Some highlights included the biggest Exodus booster draft we've held to date and some very excited Constructed Tournaments. We were also honored to sign so many cards on request. We look forward to seeing you at more events soon!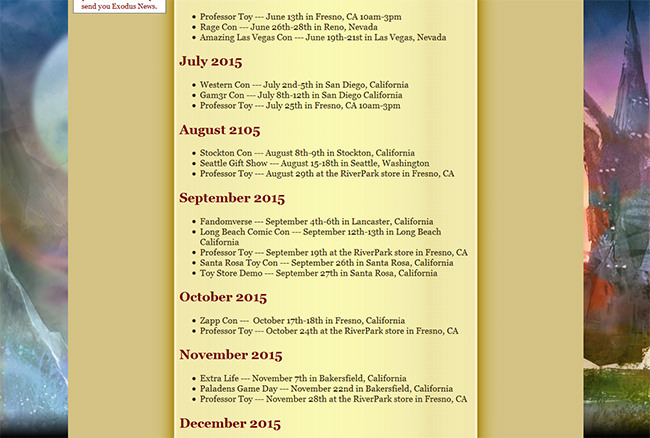 For upcoming events, check the Calendar on the Exodus website to see where we're headed next and if we're coming to a convention close to you! We'd also like to welcome all of our new players who have recently joined the Exodus from Earth to Eeventide! For new and experienced players alike, we've got a lot of great stuff headed your way in the near future.
Upcoming New Release!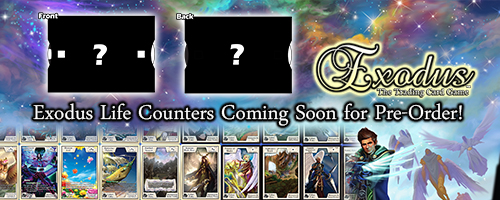 One of those exciting things is a new release in the line of Exodus products! If you've seen us at a convention, you've probably seen those nifty little Life Counters on our table that help us keep track of our score during a game. Of course, those were just generic Counters--nothing official with an Exodus logo on it or anything. But you've asked for them, and now we're super excited to announce that Life Counters featuring full Exodus art are being printed and are on their way!
You'll be able to pre-order these very soon, so keep a look out for them--they're going to be amazing!




Player Video Spotlight
Recently, we've seen some awesome fan-made Exodus videos roll in on YouTube. We'd like to take a moment and spotlight the following videos:

-- Dragonis VS Skyborn by RITF Gaming

-- Guild Leader Package Unboxing/First Impressions by XOdus

-- Shardfolk Cripple Deck Recipe + Collection by XOdus

-- Galaxy Tides Booster Box Opening by ExodusGamer




If you've got a booster box or two to open, an epic match between you and a friend, or have a sweet deck to show off, make a Youtube video of it, and we may just share it or give it a spotlight of its own in future newsletters! Speaking of new YouTube videos, very soon we'll be releasing more official Exodus videos, including more custom deck gameplay, as well as in-depth deck structures and ideas. Look for these in the next month or two!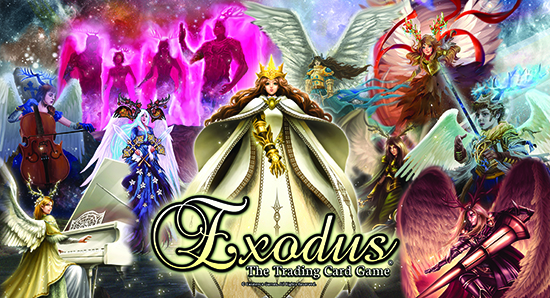 On Sale Now at New Stores!
Exodus The Trading Card Game is on sale now in many more stores! Here are a few fine retailers that now carry the game:

Nevada

J.A. Nugget Casino Resort Gift Shop (Sparks, NV)
Games Galore (Reno, NV)
Nerdvana (Carson City, NV)


North Carolina

Game Theory (Raleigh, NC)
Atomic Empire (Durham, NC)


New Jersey

Outside The Box Games (Township, NJ)


New York

TechNoir (Oneonta, NY)


Washington

Game On! (Puyallup, WA)
Koganti LLC (Bellevue, WA)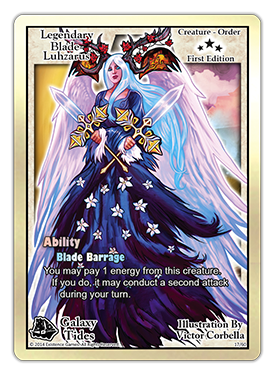 Announcing the Featured Card of the Month! In this column we feature a new Exodus card every month.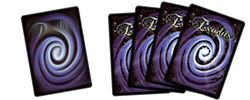 This month's spotlight goes to none other than the Legendary Blade Luhzarus! Hailing from the Order guild, this creature really lives up to its name. It is a 3-star Rare with the Blade Barrage Ability, which reads: You may Pay 1 energy from this creature. If you do, it may conduct a second attack during your turn.

The first and only creature that can attack twice per turn debuts in the Galaxy Tides booster pack! Its Ability is extremely powerful, and can be downright devastating to the opponent when used with certain combos. It is good in any deck as a standalone creature, but its type is Order, allowing it to really shine in Order decks that can protect it with Victory, Keeper of the Order!

While this creature is on the field, it will surely be a huge threat and a big target for your opponent, so the challenge is to find ways to save it from creature removal cards like Unsummon and Reversion. One dual-duty counter card that gets the job done is Apparition Grove. This symmetry card allows you to switch a creature on your field with a creature in your hand for the cost of just 1 energy! You can return Luhzarus to your hand when targeted, but you can also use Apparition Grove to switch the Legendary Blade out for another creature during your Attack Phase to get a triple or quadruple attack with the same energy pile! What hidden combos have you found with this card?

Best Regards,
Jake Medina
Lexi Medina
Existence Games