Short N' Sweet Announcements!

Hey, hope you've been doing super well and staying safe so far in 2021! We've been hard at work on some exciting new projects, and wanted to quickly let you know about them 😄
---
Eeventide's Vault:

You may have heard about this project in our latest Magazine Issue or seen beta screenshots on our social media, but we're thrilled to finally say that OPEN BETA of Eeventide's Vault is finally almost here!

What is "Eeventide's Vault"? 🤔

EV is an exciting digital Exodus TCG collection system we've had in the works for the last few years, where you'll be able to open virtual booster packs, collect all of the game's stunning artwork, & earn special achievements in your account for exclusive rewards!!!


And we're beyond thrilled to finally share it with you :)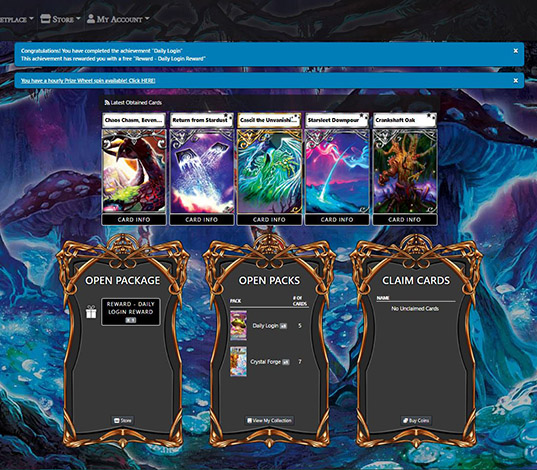 How to sign up for Open Beta:
✦ It's FREE to join open beta!
✦ Just register a free account on our Organized Play site
✦ When Eeventide's Vault goes live, you'll be able to access it from exodus-players.com with your account 👍


---
More sneak peeks & an official launch date are coming soon!
---
New Enamel Pins!
Exciting side project news: game creator Lexi launches a Kickstarter TODAY at 12pm PST! 🎉 She designed an original enamel pin collection of "Elemental Angels" with 10 unique pin designs ( + some sweet bonus Stretch Goal goodies -- including an exclusive foil trading card 👀 )!

You'll definitely want to check this out, especially if you're fantasy-loving angel fans like us 😄 Or if you know anyone who could use some elegant lil angels, feel free to share this with them!

✦ Check Out The Project Here ✦





______________________________♢✦♢______________________________



Exodus TCG Card Auctions: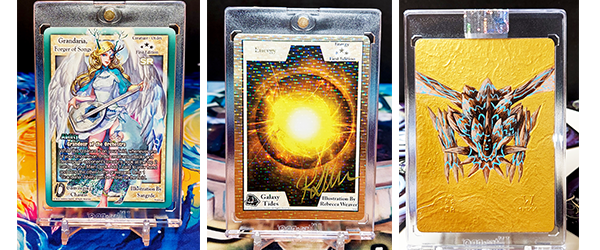 In case you haven't seen yet, we've been doing weekly card auctions on eBay with super rare, exclusive Exodus TCG cards such as: limited prototype cards, artist-signed cards, hand-painted alters, & more!

Most of these are cards we've pulled from the Existence Games personal collection vault -- which is why you'll see cards in these auctions that have never been available anywhere else (like a 1-of-4 prototype card)! 🤩

Check out this week's auction: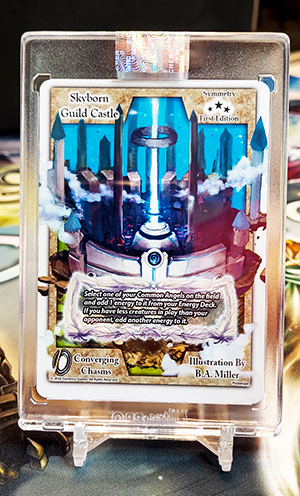 Limited Prototype "Skyborn Guild's Castle" card (1 of 4 in the world!)
Fun fact: this card was made back in 2016, well before Set 4 Converging Chasms released -- and definitely way before we made real white-bordered cards in Set 5. This was actually one of our first test prints to see what physical Exodus TCG cards would look like with a bright white border (as opposed to the usual crisp black border).
And this unique collection piece is the ONLY prototype "Skyborn Guild Castle" we ever plan on putting into circulation, so if you're interested in being the only Drifter with a card like this, jump on your chance now!
✦ Place Your Bid Here ✦
______________________________♢✦♢______________________________
Thank you all so much for your continued love & support of the game, and of us, over the years! 2021 is also going to finally bring us Set 6 - and we can't WAIT to start sharing some spoilers and getting ready for the launch later this summer! 🥳

Until then, take good care of yourselves, stay wonderful & have fun!



---
---
Play On!
Official Site | Facebook | Twitter | Instagram | Youtube
All the best,
Jake Medina
Lexi Medina
Existence Games