Exodus Store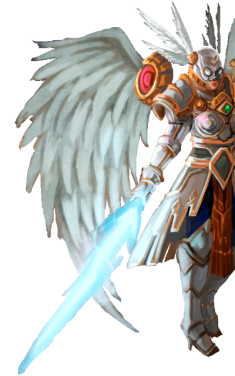 Welcome to the official Exodus store, your place to buy Exodus TCG products directly from Existence Games! If you live in the United States or Canada, we prefer that you go to your local game store and ask them to order Exodus products from their distributor. We are committed to supporting local game shops, and they also offer Exodus tournaments, booster drafts, and soon to come... organized play!
1st Edition Galaxy Tides boosters are on sale now! All products (except magazines) in the Exodus store come with free shipping worldwide! Exodus package deals have proven to be one of the best and most popular ways to get into the game, as you receive bonus promo cards with the product. Get yours now!

---
Exodus TCG Official Magazine: Volume 1, Issue 1

Featuring competitive deck articles, a timeline of the game's history, an inside look at how the game is made, card prices, all-new storyline, player Q&A, and a 2-page spread on the new expansion set, this first issue is one you won't want to miss! Comes with 2 exclusive new cards sealed inside (1 Pre-Release Promo not found in the new set + 1 of 10 possible Limited Edition sketch cards). $7.95 

USA Customer:
Non-USA Customer:

*NOTE: You will receive an e-mail receipt for your order after your magazine has been shipped. Thank you for your support!
(Set 1) Birth of Creation Starter Decks

Harmonized Decks are excellent starter decks and are just what you need to get started with Exodus The Trading Card Game!

Contains a ready-to-play 40-card deck, a Starter's Guide, 1 Rule Card and 1 foil Rare card.
| | |
| --- | --- |
| Unlimited Edition Dragonis Starter Deck $19.99   | Unlimited Edition Skyborn Starter Deck  $19.99 |
(Set 2) Galaxy Tides Booster Expansion

Booster Boxes contain 12 foil booster packs. Each foil pack contains 5 random cards; 3 Commons, 1 Uncommon, and 1 Foil card (Uncommon, Rare, or Secret Rare). There are 62 different cards in the Galaxy Tides expansion. Some cards are also available in foil or extended art. Collect all 77 versions! $41.99

(Set 3) Crystal Forge Competitive Decks

With new Rarity mechanics, new creature types, & new effects like Reveal and Freeze, the Crystal Forge expansion set introduces all-new cards with new themes & new artwork all jam-packed into 2 new decks that are ready-to-play & fully customizable! None of these cards can be found in other sets!
*Get multiple of these decks to customize them & make them even more powerful!
| | |
| --- | --- |
| First Edition Treeforge Competitive Deck $19.99 | First Edition Shardveil Competitive Deck $19.99 |
Exodus Life Counter

Use the new Exodus Life Counter to keep track of Life Points with style and ease! The official Exodus spinning wheel Life Counter features awesome artwork including Dragons, Angels, Treefolk, Shardfolk, and Rare new creatures yet to be released from a future booster expansion! Each Life Counter can keep track of up to 2 player's scores and has artwork on both sides. They are standard card size 2.5 x 3.5" and fit perfectly in any box or deck case. Price is $4.99 each.

---
Buy our products in a package and receive Free Promo Cards!
If you would rather have a limited sketch card in place of a life counter in any of our packages, just let us know! Just leave a comment when placing your order or shoot us an email.

---
Exodus Package -1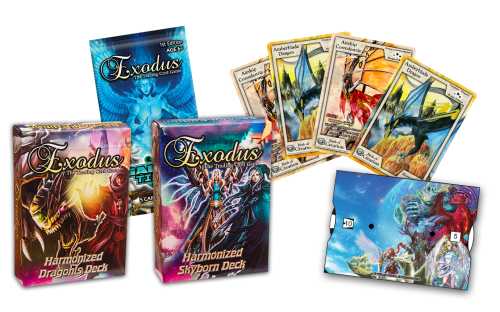 This package will include 2 decks (you can choose from any of the 4 decks), 4 promo cards,  1 Galaxy Tides Booster pack and 1 Life Counter. $45.00

Exodus Package -2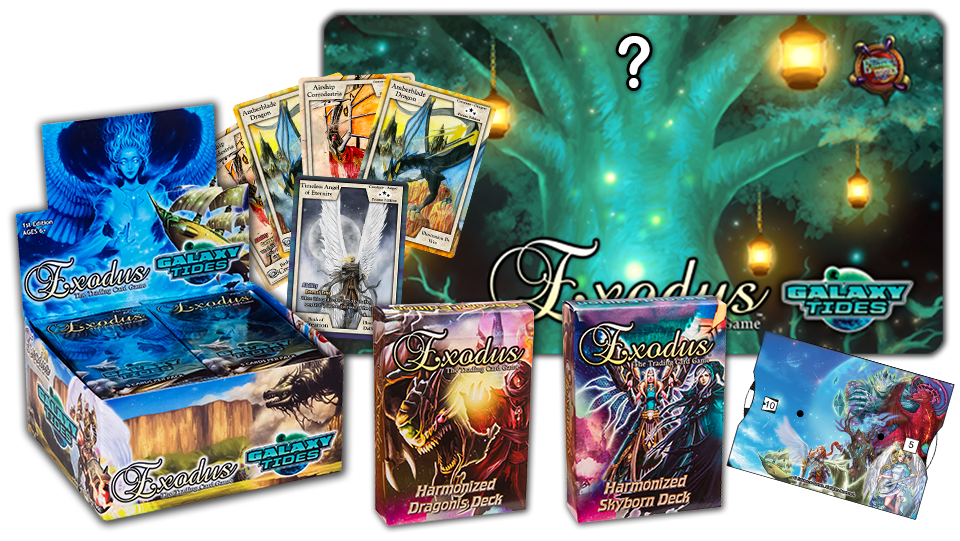 This package will include 2 decks (you can choose from any of the 4 decks), 5 promo cards, 1 Exodus Playmat (design chosen at random), 1 Galaxy Tides Booster Box and 1 Life Counter. $106.95

Exodus Package -3
This package will include 4 decks (you choose from any of the 4 decks), 10 promo cards, 2 Exodus Playmats (design chosen at random), 1 Galaxy Tides Booster Box (62 new cards that are not in starter decks) and 2 Life Counters. $171.91

Exodus Package -4
This package will include 3 booster boxes (186 new cards that are not in starter decks) and 1 Cloudburst Spiral promo card. $125.97

Exodus Shirts

Exodus Shirts are made of super-soft Polyester. We have so many comments on the shirts that Jake and Lexi wear to conventions that we now have shirts available to everyone! These are high quality shirts that wash and wear very well and keep their full color high resolution artwork. Even after hundreds of washing's, they do not fade and they do not shrink. The print is on the front of the shirts and the sleeves.  The back of the shirts are a solid white. $24.99.
Alana The Star Formation Shirt

$24.99

Galaxy Tides Shirt

$24.99

Galaxy Tides Booster Case

The first booster set, Galaxy Tides, is a 100% new 60-card expansion that adds new twists to the game. 1 of 5 cards per pack is guaranteed to be a foil card. Buying a case guarantees you to get the Secret Rare Alana The Star Formation (1 in every 12 boxes). There are 12 packs per box (with a bonus of 2 box toppers per box!) and 12 boxes in a case. That's a total of 744 cards in a case! $503.88

Return From The Exodus Store To The Home Page