Exodus The Trading Card Game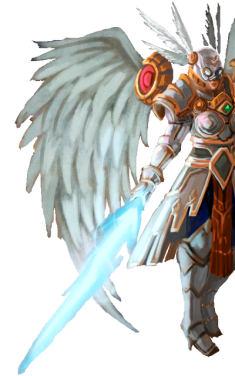 Welcome to the official website of Exodus The Trading Card Game!

---
NOTICE: Some changes are coming to this page soon! Check back to see the updates :)

---
A new planet called Eeventide has been born, its chaotic climates and portal-covered landscapes governed by a colorful aurora called the Thoughtstream. This magical sky river connects Eeventide not only with other planets and stars, but with galaxies unreached.
The Exodus Trading Card Game is an extremely fast-paced new trading card game where 2 or more players battle by summoning massive creatures using decks of cards forged from stardust!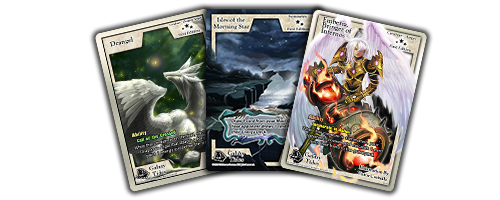 Exodus The Trading Card Game is the first fantasy-based trading card game made by young people for all ages!  An average game literally only takes 5-10 minutes!

First Edition and Second Edition decks were released and quickly sold out during the soft launch phase. Since the full launch, Premiere Edition decks also sold out. We personally thank all of the dedicated stores and players, as well as each person who purchased the game early on. Unlimited Edition (Set 1) Birth of Creation Harmonized Starter Decks, as well as (Set 2) Galaxy Tides booster set, and (Set 3) Crystal Forge competitive decks are available now!

Playing Exodus The Trading Card Game:

To begin playing, all you need is one deck for each player, and a flat surface to play the cards on.

In the game, players are known as Drifters. They gain the ability to fly across the beautiful and treacherous landscapes of Eeventide, drifting through portals that act as shortcuts from one side of the planet to the other. Drifters use their special decks of cards to summon magnificent creatures to fight for them. New threats will arise and challenges will be established as players go solo or battle to bring their Guild to the top.

Exodus is driven by a captivating storyline which carries over into the card game. When new cards and characters are added, the storyline will evolve.

Tabletop gaming is accelerated and sent into overdrive with the premiere of this trading card game! A smooth step-by-step turn system makes for blazing fast gameplay. The action never slows with the endless card combinations and strategies. We welcome you, fellow Drifter, as you join us on the great journey and departure known as the Exodus! Get the game now at your local game store—please ask them to get it from their distributor if they are not yet stocking the game.