Our Heartfelt Thanks

Hey! We've got big news ... Exodus' very first booster expansion Galaxy Tides has officially SOLD OUT!!! We'll break down what that means below, but first we just want to give a great big thank you to everyone who's purchased any booster boxes / packs / singles of GT over the years.
Producing Galaxy Tides was a massive milestone for the Exodus TCG, and selling out of First Edition is now another huge landmark. We hope you enjoy this quick little summary / thank you video we put together in honor of GT selling out: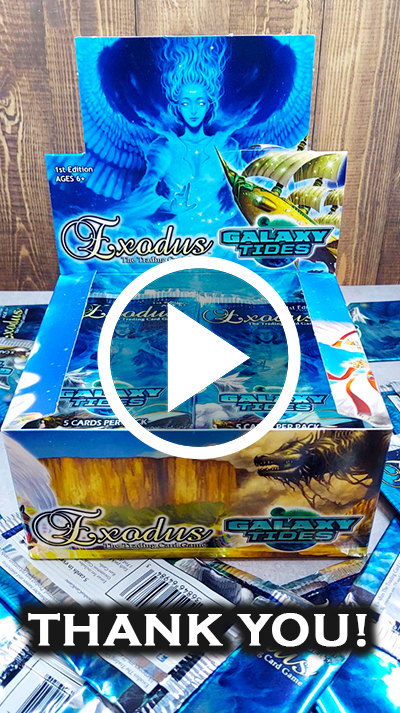 ---
When A Booster Set Sells Out:

✦ As mentioned in our 3rd Magazine Issue (p. 54), booster expansions will have no more than 2 Editions ever produced. "There shall be 1 First Edition print run and, upon First Edition being sold out, followed up with a slightly larger Second Edition print run, after which the set will permanently go Out of Print (OOP)."

✦ That said, we want to always be open and transparent with you guys, and thus let you know that currently, there are no immediate plans to begin the Second Edition print run of Galaxy Tides. This doesn't mean that we'll never do a Second Ed. of GT, but just that for the near future, this set will remain SOLD OUT.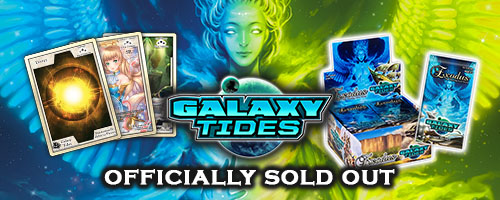 ---
How Can I Get Galaxy Tides Cards Now?
✦ Check in with your local game shop to see if they've still got any boxes left in stock!

✦ Buy from your friendly online retailers on TCGPlayer.com or eBay!

✦ Trade / buy from other Exodus TCG players in our Official Discord server!



How Will This Affect Card Values?

✦ We do expect to see the value of Galaxy Tides product and singles to increase more over time, now that First Edition is completely out of stock with no set date to begin Second Ed.

✦ This could be a good time to snatch up your favorite singles or snag any remaining boxes / packs on the market before prices potentially go up.

✦ At the very least, keep an eye on the market and your ears open for any potential opportunities or sweet deals you may come across!




______________________________♢✦♢______________________________



In Other News:

Set 6, Threshold of Time is open for Pre-Order! This is the long-awaited expansion-of-all-Exodus-expansions that we guarantee is going to blow your socks off!! 🤩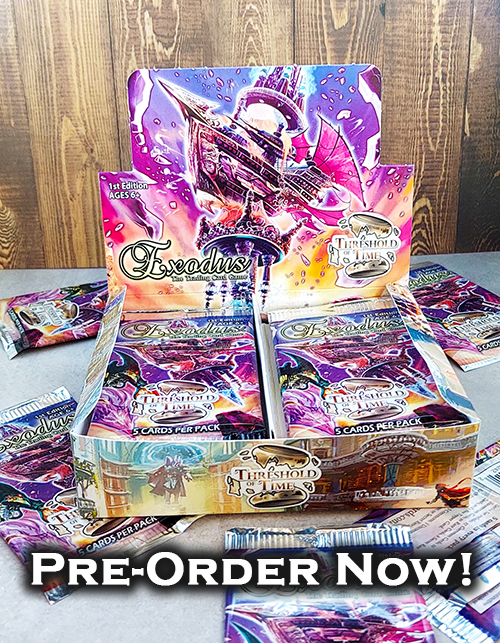 All pre-orders are going to include an exclusive new promo card, and all who order a case will also get a set of 4 exclusive Set 6 sketch cards! 😎
Set 6 Pre-Release Party:
You read that right! Keep an eye out for an announcement regarding our upcoming Pre-Release Party for Set 6!!! 🎉 We're going to give everyone an opportunity to get their pre-order items EARLY (well before the full release in September)! And for those local to Clovis, CA, you'll have the chance to get Set 6 in PERSON and play with others around the table once again :)

Full details coming soon!


---
---

Thanks for tuning in, and we hope you're just excited as we are as Exodus gears up for an exciting new release ahead! Be sure to share this with others and let your fellow TCG friends know about what's to come!! We'll talk to you again soon ♥


---
---
Play On!
Official Site | Facebook | Twitter | Instagram | Youtube
All the best,
Jake Medina
Lexi Medina
Existence Games