Want Exclusive Early Access to Set 6?

Hope you've have a fantastic week, and have an even better weekend ahead! Exodus' 6th set, Threshold of Time has been a very long time coming ... but with tremendous excitement, we're here to tell you that we're hosting a PRE-RELEASE party for early access to the new expansion! And you're 100% invited. 🥳🙌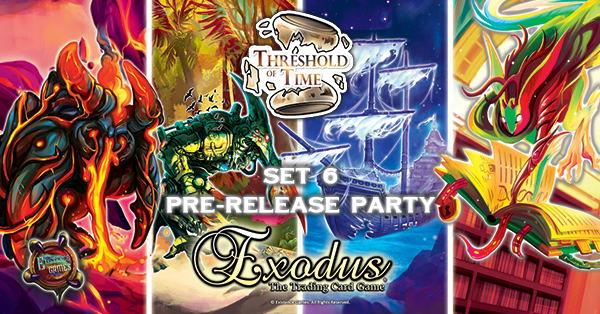 ---
Event Info:
✦ DATE: Saturday, July 10
✦ TIME: 1pm ― 6pm (PST), open house style
✦ LOCATION: Fresno, CA


✦ Full event details & registration can be found here ✦




We'll be kicking off the event with an official Booster Draft so that everyone can enjoy and experience Threshold of Time for the first time, together! All Draft participants will get an exclusive new Set 6 promo card and will of course, get to keep all cards drafted. Booster Draft will have a $15 entry fee; booster packs & full energy deck provided.
---
Additional Event Goodies:
✦ We'll be holding regular card raffles throughout the Pre-Release party! All present attendees will be eligible for prizes :)

✦ Look for our silent auction section where you can snag some super rare, limited & valuable Exodus products! 👀

✦ Card signing will be available from Jake and Lexi on request ~

✦ Challenge the game creators in a match to win a new Set 6 sketch card!

✦ Threshold of Time (Set 6) will be fully available for purchase at the store counter throughout the event!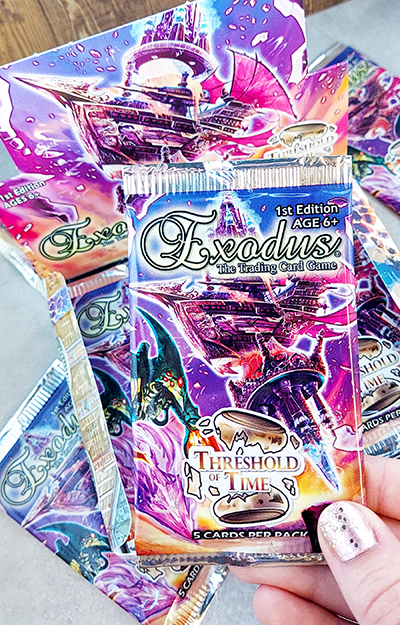 Pre-Order Pickup:

✦ If you've pre-ordered Set 6 and plan on attending the Pre-Release party, you'll be able to pick up your product(s) in person at the event (woohoo no waiting for a mail truck 🙌)!

✦ Note: this early pickup option is only available for attendees of the Pre-Release party.

✦ If you live farther out from CA / are unable to attend our Set 6 Pre-Release Party, ask your friendly local game store to reach out to us and plan their own Pre-Release event!




______________________________♢✦♢______________________________



Haven't Pre-Ordered Yet?

The official release date for Threshold of Time isn't until September 16, but if you pre-order anytime before then, you'll get an exclusive new promo card with it (and if you order a case, you'll ALSO get a set of new Set 6 sketch cards)! ✨

✦ Pre-Order Set 6 Here ✦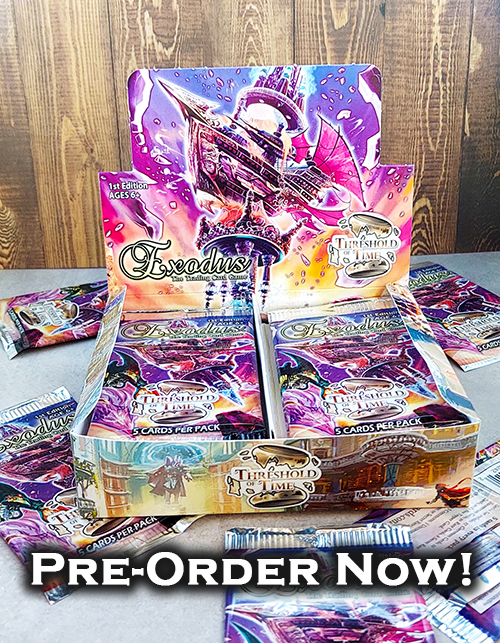 ---
---
In Other News:

Just a quick little notice that we're currently revamping our Online Store to be completely new, modern & easier to navigate for all your Exodus TCG shopping needs! The current store is still available and fully functioning, but we can't wait to bring you our fresh new online storefront really soon :)

As always, stay wonderful, take care & reach out to us anytime if you have any questions! We're so stoked to see as many of you as possible in July and celebrate Set 6 at last together in person. ❤


---
---
Play On!
Official Site | Facebook | Twitter | Instagram | Youtube
All the best,
Jake Medina
Lexi Medina
Existence Games