Exodus News, Issue #014 -- Summer Newsletter 2016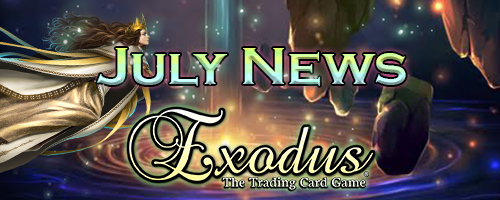 Hey Drifters of Eeventide! It's been a while since the last newsletter, but this month we've got lots of great news for you from us at Existence Games! Despite the rather long gap between updates, we're always busy behind-the-scenes here, working hard to bring you guys more new content for Exodus.

Starting back in April we began a series of launching a new Exodus promo card each month, which can be earned through Organized Play Events. Check out this month's promo plus the previous cards that have been released here: https://www.exodus-cards.com/monthly-promo-card.html


If you didn't get your chance at these cards, never fear—we've got an amazing opportunity for you to earn all of these and more!


That's right! Existence Games is now holding a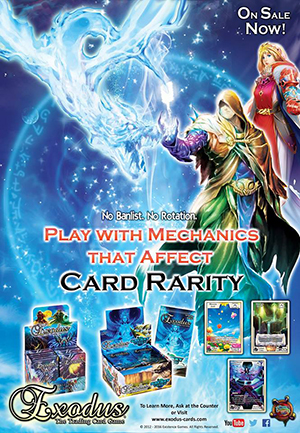 New Exodus posters have just been released and can now be found in game stores across the U.S. If you spot one of these, grab your camera and take a pic of yourself in front of the poster, then submit it to Facebook or Twitter using the hashtag #ExodusTCG.



You'll instantly go into a drawing to win a playset of 6 new Exodus promo cards, including the cards on our Monthly Promo Card Page, along with several other currently-unreleased cards! This is an incredible opportunity to win amazing limited-edition promos, as each of these cards won't come around again for a while after the month of September. So hurry out and find those posters—the contest ends September 16! We'll be drawing several winners from the pool of entries. Good luck!





Last month over Father's Day weekend, we attended the amazing WizardWorld ComicCon in Sacramento, CA. We had a blast meeting gamers and teaching Exodus to so many cool people while witnessing some crazy-awesome costumes in the Exhibitor hall.



Now, we're super hyped to be attending Gencon in just a few short weeks. We're busy getting ready for this incredible event, and can't wait to bring Exodus The Trading Card Game over to the East Coast! If you're in the area or going to GenCon, come check out all the sweet events and goodies we've got going at our booth (#2962), and sign up for our tournaments and booster drafts here: Exodus TCG Gencon Events


We'll see you there!




Gencon is quite the distance from our home base, and we know it is for a lot of our west coast friends as well. So if you're not planning an airplane trip or 4-day cross-country drive to Indiana, then join us in Lancaster, CA on September 23-25 at Fandom Verse Expo! We're excited to come back to this con!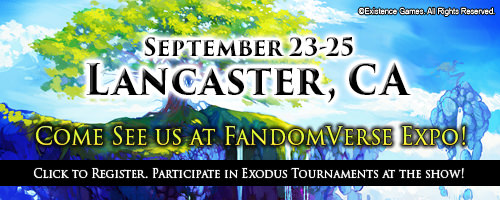 In other news, two new Exodus playmats just hit game stores! The first features the beloved cannon angels: Emberia, Bringer of Infernos and Crystal Command Andromeda from the Galaxy Tides booster set. This intimidating duo has been very popular among competitive players, and will look perfect played beneath a corresponding Cannon-Angel themed deck. You'll blow your opponents away with this colorful cannon-blasting angel mat on your field!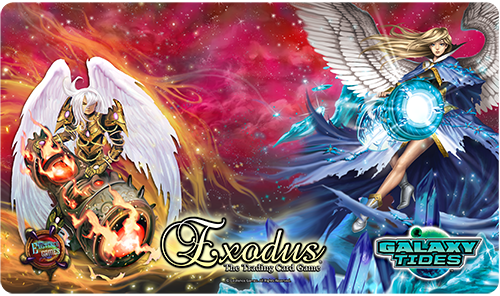 The second new playmat displays a very much-loved character from the base set of Exodus, Birth of Creation. Perched proudly among its machinery in this mat is Clock Dragon! Its official type is "Dragon/Machine". This creature was the first in Exodus to show a machine/steampunk theme, paving the way for other mechanical creatures such as Battleship Philistia, Airship Corrodestria, and … some future creatures to come. (Spoiler alert!)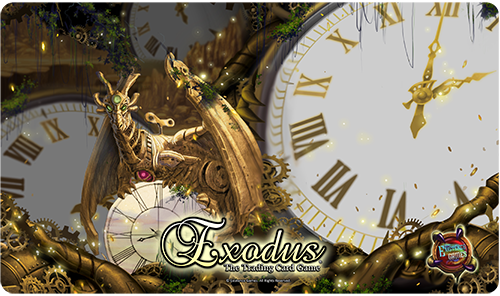 Don't miss your chance to get these sweet playmats, as there's a very limited quantity and these most likely won't be reprinted again! We sold out of both of these Playmats through initial hobby shop pre-orders, so get them now while they're in stores!



Announcing the official featured card of July! In this column we feature a new Exodus card every month.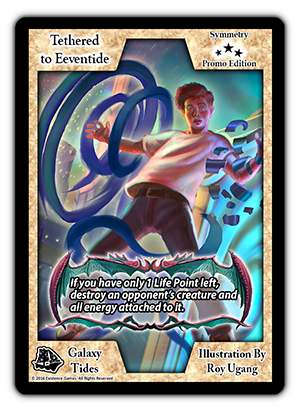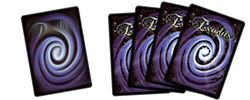 It's only fitting that this month's spotlight goes to the new July promo card, Tethered to Eeventide! This Rare Symmetry was illustrated by Roy Ugang, an amazing artist we all know from the Birth of Creation set. The card's ability reads: "If you have only 1 Life Point left, destroy an opponent's creature and all energy attached to it."



Woah—that's a pretty sweet deal! For all those times you're hanging on with one measly point left and can't break through your opponent's creature barriers, this card is your hero. Of course, you can't use it until end-game, but in the meantime it works as card fodder for other symmetries like Thoughts of Progress, Vendetta Plateau, and creature abilities like Dream Blossom Dragon's Final Flare. Once you get down to 1 Life Point, just be sure to draw this card before you can get hit with a Star Struggle!



To get this promo card, attend a free Exodus tournament at your local game store, or find another player who may be willing to trade! You also have a chance to win 2 copies of this card by entering the Exodus contest mentioned above.



Ask your preferred game store to run Exodus tournaments if they're not already; you don't want to miss out on this promo—or any future promo cards for that matter!




The future of Eeventide is looking very icy … and forested. Oxy-moron you say? Perhaps. Maybe the world of Exodus is soon to be engulfed in a collision between crystal creatures and plant behemoths …
#Foreshadow


You can read all of the current Exodus TCG Storyline on our official website here: Exodus Storyline The lore will continue to expand with each new set to the game!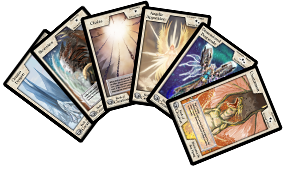 If you like Exodus The Trading Card Game, pick up some decks, boosters, or game accessories at our Online Store. We have awesome package deals on products that earn you a discount along with additional promo cards that you can't get elsewhere!


Be sure to like the game on our Facebook, Twitter, and Youtube Channel pages, and remember get those Exodus decks out and enjoy some game time with someone today!

Thanks, and stay tuned for upcoming news on Exodus The Trading Card Game.



Best regards,

Jake Medina
Lexi Medina
Existence Games