Stuck At Home and Bored?
Enjoy Some Goodies, On Us :)

Hey, we know it's wild out there. And it's important to flatten the curve and keep you and your loved ones healthy and safe during this time. We can not only fight against the Coronavirus together, but also challenge the new plague of boredom that's sweeping self-quarantined households everywhere!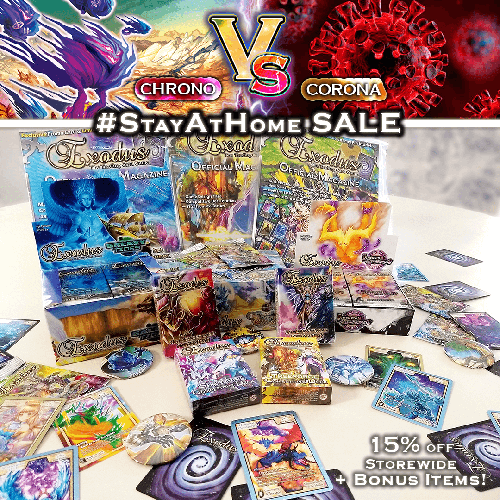 ---

While you stay at home right now, grab some Exodus TCG decks and challenge your fam to a good old kitchen table duel. 💪 There's no better time for a family game night!

And to help start or grow your card collection, we're releasing a 15% OFF discount on EVERYTHING in our Online Store + Playmat Selection ✨

As an added bonus, every order will not only get a playset of this month's promo card, but will also include an extra button pin + 2 random foil cards! 🤩


We hope you guys stay safe, and now stay entertained during this time of Shelter-In-Place. Remember, CHRONOS, not Corona! Think of it like all of Eeventide's creatures--Treefolk, dragons, angels and Shardfolk--are actually *teaming up* with the mysterious Chrono race to help fight off a much bigger threat in the real world right now.
Do your part, and 𝗣𝗟𝗔𝗬 𝗢𝗡!


---
________________________________________ ________________________________________
Other News:
✦ Due to quarantines and Shelter In Place, Exodus TCG Organized Play is currently on pause, and all local shop events are cancelled until further notice.
✧ At the time of this email, Worlds 2020 has not yet been cancelled or rescheduled. We are carefully monitoring events and discussing details before making any changes to this event.
✦ Our 2020 Online Qualifier event has been cancelled. The 2 Worlds invite slots from this event will be moved to the next-highest ranking players beneath Top 10 on Organized Play.
✧ Positive reminder: you can also play the Exodus TCG ONLINE through Tabletop Simulator! So even while social distancing, you can still game with your tcg buddies to help pass the time :)
________________________________________ ________________________________________
Stay safe and healthy, friends, and remember that we're all this together! Make it a great week, and take advantage of any boredom by spending quality time with those you may be sheltered with :)


---
---
Play On!
Official Site | Facebook | Twitter | Instagram | Youtube
All the best,
Jake Medina
Lexi Medina
Existence Games